3 in 1 solution without removal of the iphysio
Το σύστημα iphysio® αποτελεί ένα καινοτόμο και πρωτοποριακό επίτευγμα όσον αφορά το προσθετικό κομμάτι. Με το σύστημα αυτό επιτυγχάνετε η επούλωση (healing), το αποτύπωμα ( impression) και η τοποθέτηση προσωρινής εργασίας (temporary prosthesis) χωρίς να χρειαστεί να αφαιρέσουμε το iphysio® (3 in 1 solution).
Το σύστημα iphysio® είναι συμβατό με το πιο γνωστά brand εμφυτευμάτων.
Το σύστημα iphysio® επιλέχθηκε ως φιναλίστ στα βραβεία οδοντιατρικής καινοτομίας το 2018 από την Γαλλική Οδοντιατρική Ομοσπονδία (Association Dentaire Français)
Περιγραφή
iphysio® helps to achieve the healing, impression and the temporary prosthesis
Anatomical healing: find again the true non-circular emergence profile of natural teeth.
Conventional or digital impression: take the impression directly on iphysio® without removing it.
Temporary: create the temporary directly on iphysio® thanks to dedicated temporary abutment without removing it.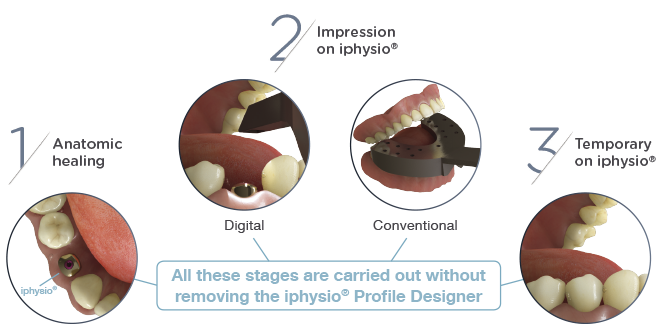 IPHYSIO® IS COMPATIBLE WITH THE LARGEST BRANDS OF IMPLANTS: Astra Tech®, ETK®, Implant Direct®, Nobel Biocare®…
Preservation of the biological space
The iphysio® Profile Designer is screwed into the implant during the 1st or the 2nd surgical intervention. It remains in place throughout the bone and gingival healing process as well as during the taking of an impression irrespective of the implant sector, whether aesthetic or not. It is only removed once to place and finally screw in the final restoration.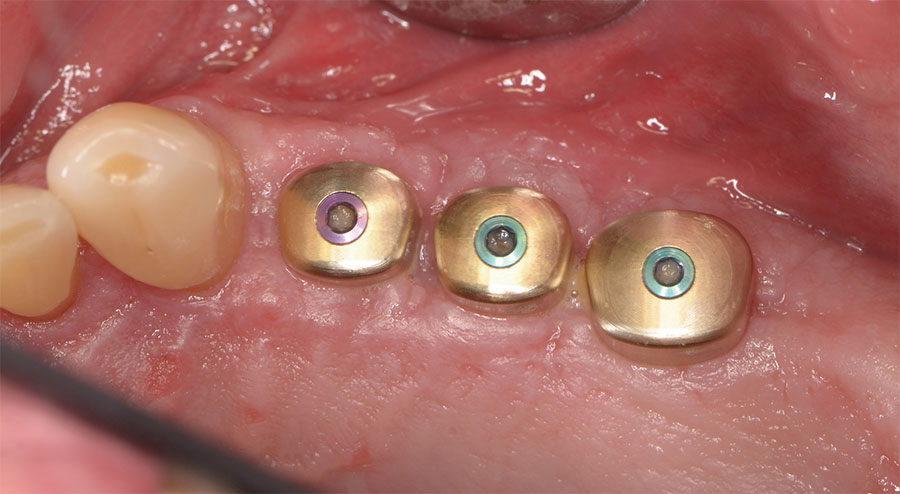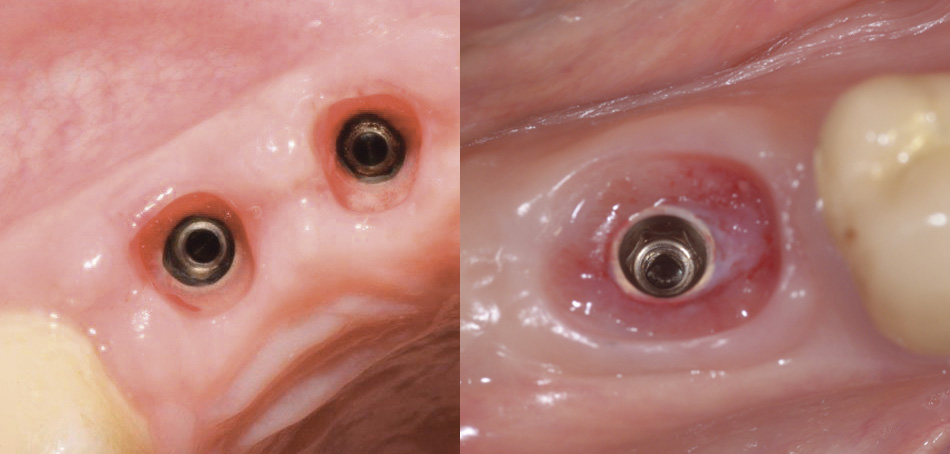 A true profile of anatomical emergence
The diameter of an implant does not correspond to the anatomical cross section of the replaced tooth. The iphysio® Profile Designer offers you a true profile of anatomical emergence guaranteeing sufficient thickness of the soft tissue. It will therefore allow for the transition of a round implant section to the actual emergence of the real tooth. We have studied fifty scanners of various patients to measure the proximal and vestibulo-lingual (or palatine) dimensions of tissue level emergences of roots and teeth.