Naturactis
Το εμφύτευμα Naturactis χάρη στον σχεδιασμό και την κατασκευή του αποτελεί πραγματικά ένα μοναδικό εμφύτευμα. Λειτουργεί σε πολλές κλινικές περιπτώσεις, σε μαλακό οστό, σε σκληρό οστό στην αισθητική ζώνη και αποτελεί την ιδανική επιλογή για απαιτητικές ενδείξεις και πρωτόκολλα, όπως η άμεση εμφύτευση και η άμεση φόρτιση.
Παρέχει εξαιρετικά υψηλή αρχικη σταθερότητα η οποία οφείλεται στο διπλό ασύμμετρο σπείρωμα του καθώς και στο πρωτοποριακό σχεδιασμό του ακρορριζιου (deep blade design apex). Το εμφύτευμα Naturactis τοποθετείται υπο οστικά (sub-crestal position) για το καλύτερη δυνατό αισθητικό αποτέλεσμα.
Περιγραφή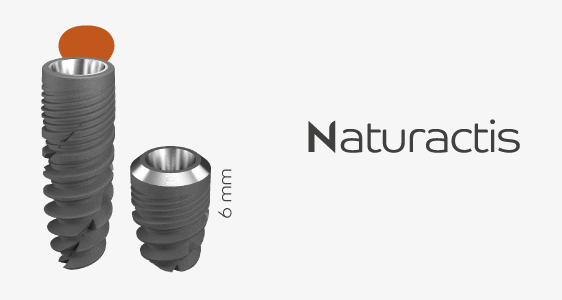 Indications
• Post-extraction surgeries.
• Immediate loading.
• Particularly suitable for areas of low bone density.
• Reduced format: increased space in the sterile field and the autoclave.
• Perfect readability of drillings sequences::
– presentation of the instruments in order of use,
– arrow markings,
– colour coding of plugs according to the diameter of implants to be placed.
• Tilting for better visibility of instruments during surgery.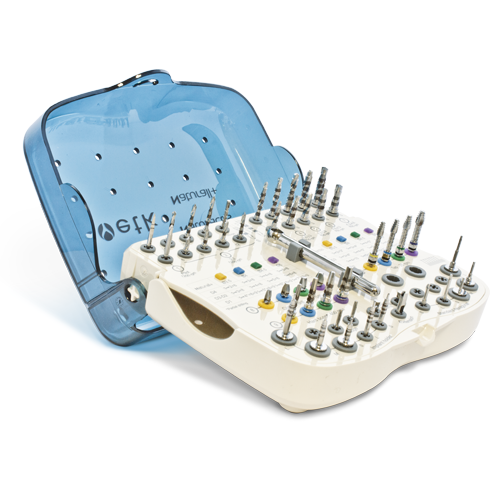 COMMON SURGICAL KIT
This kit includes all the instruments necessary for carrying out the surgical protocol and for the management of all bone densities for all lengths and all diameters of Naturactis and Naturall+ implants.
This simplified kit includes a selection of instruments necessary to place Naturactis implants of 6 to 14 mm in length.