Naturall+
Το εμφύτευμα Naturall+ χάρη στο κωνικό σχήμα και τα ιδιαίτερα χαρακτηριστικά του (straight neck and slightly supra-crestal positionning) αποτελεί την ιδανική λύση για όλες σχεδόν τις κλινικές περιπτώσεις. Ανταποκρίνεται σε όλες τις περιοχές του στόματος ανεξαρτήτου πάχους οστών και οστικής πυκνότητας διευκολύνοντας έτσι την διαδικασία για την επίτευξη ενός μονίμου λειτουργικού και αισθητικού αποτελέσματος.
Περιγραφή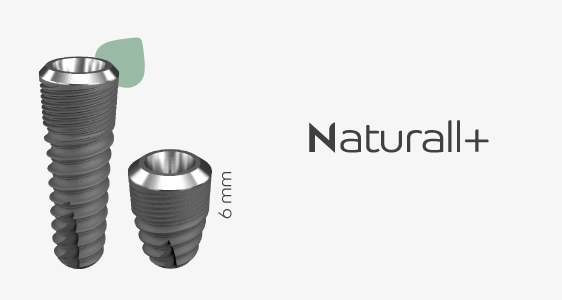 Indications
• All regions.
• All bone densities.
• Sinus floor region.
• Post-extraction surgeries.
• Immediate loading.
• Reduced format: increased space in the sterile field and the autoclave.
• Perfect readability of drilling sequences:
– presentation of the instruments in order of use,
– arrow markings,
– colour coding of plugs according to the diameter of implants to be placed.
• Tilting for better visibility of instruments during surgery.
COMMON SURGICAL KIT
This kit includes all the instruments necessary for carrying out the surgical protocol and the management of all bone densities for all lengths and all diameters of Naturactis and Naturall+ implants.
MINI SURGICAL KIT
This simplified kit offers a selection of instruments necessary to place Naturactis implants of 6 to 14 mm in length.