Naturall+
Its tapered shape is ideal for post-extraction implant placement or to optimize the anchorage length of implants in the case of closely divergent roots or anatomical barriers. Its dimensions (straight neck) and its positionning (slightly supra-crestal) can meet the requirement of most clinical cases and facilitate the achievement of a durable and aesthetic result (localization and control of the prosthetic joint).
Description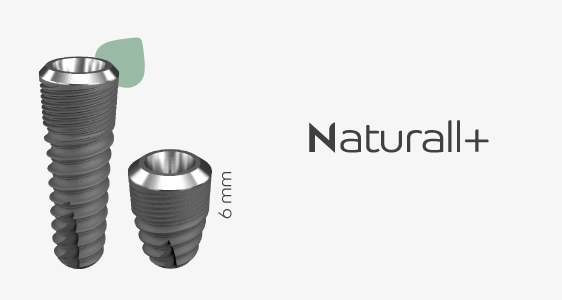 Indications
• All regions.
• All bone densities.
• Sinus floor region.
• Post-extraction surgeries.
• Immediate loading.
• Reduced format: increased space in the sterile field and the autoclave.
• Perfect readability of drilling sequences:
– presentation of the instruments in order of use,
– arrow markings,
– colour coding of plugs according to the diameter of implants to be placed.
• Tilting for better visibility of instruments during surgery.
COMMON SURGICAL KIT
This kit includes all the instruments necessary for carrying out the surgical protocol and the management of all bone densities for all lengths and all diameters of Naturactis and Naturall+ implants.
MINI SURGICAL KIT
This simplified kit offers a selection of instruments necessary to place Naturactis implants of 6 to 14 mm in length.